Lovecraftian village concept art: Quick sketch on cube i7 stylus using PS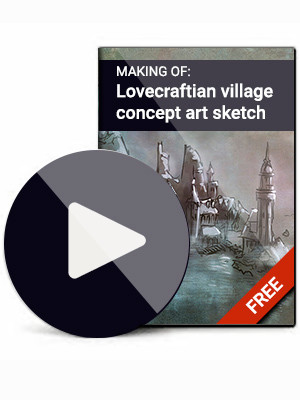 As Im working on new projects I like to share the making of process when I have the time. With this attitude I've made a quick making of video where you can see the painting process in this concept sketch.
In this case I wanted to have a quick idea of how the demoscene in the asset would be. Using that idea I started with a landscape from a nice alttitude to have a clear overview for the scene.
Using this kind of fast sketches you can get a proper idea of how to manage time while creating assets as long as you can see how much every part of the work list affects the hole scene. Once you've done this part you can focus on creating stunning details to complete the ambience.
You can find the video with a click in the left image or in the Tutorials section.