---
---
Blade Runner style for Unity
motivation,  creation.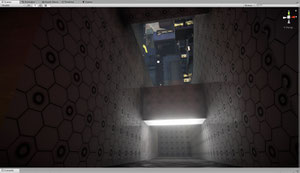 This last year ended with a really awesome contest for the unity community creating cyberpunk style environments. Really wanted to be part of that but I had no time so decided to make my own Neon city with the same idea in mind.
It's been really amazing to create this tool since I sincerely love the ambience. Thinking about Blade Runner, Dreed, Total Recall or 5th Elemet (one of my favorite movies) really took me into this dark neon world while working on it.
the final asset
First approach idea was to create both exterior & interior asset for cyberpunk city but while working on it I was becoming more aware of the complexity required for this asset to look immersive & appealing. With almost 200 hours of work only in exterior prefabs it wasn't realistic to invest more time with no budget so the asset comes to live with only exteriors. Of corse if sales goes well as intended, Neon City will include interior assets in further updates.
---
neon city is alive
The final result for this first version is quite complete indeed. With tons of asset prefabs to build and detail your city environment making it a believeable ambience for a game.
With high quality 4k textures, and taking advange of the multimaterial used in most parts of this asset, you can customize almost every prefab to make it look unique as your game sould be, avoiding the "asset frankenstein" lookup so annoying when using asset store.
For the "neon" lookup this pack includes lots of advertising prefabs, mostly with nonsense or non relevant stuff. Many of them are customizable as well so you can include your own textures so it could be more related to your game narrative.
Finally to add some spice, the pack includes some special stuff like trains or simple cars.
the future of the city
So that's what it is, but What could it be in next updates?
Well, as previously said, is more than realistic to expect some interior tools. Also there will be more detail assets for the city for sure.
---