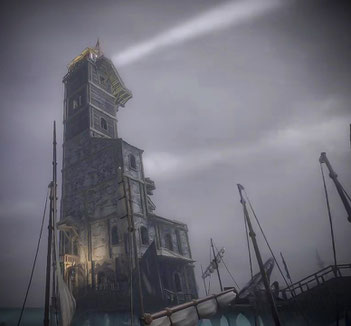 Lovecraftian Village asset brings Lovecraft terror ambience to a Unity environment pack. Inspired in some of his popular primeval horror stories like "Shadow over Innsmouth" wich is located in some old 1900's harbor village where horrors came from beneath the sea.
Upgraded to 1.1 from the old (Unity 5) Myst village pack includes tons of new prefabs and also the new playable demoscene shown in the video & shots. This pack is full modular so you can build from walls & floors to rooms or complete buildings. It also works both top down, 1st person camera or 3rd person camera using Lods to keep detail quality both far and close view.
It is also a very customizable asset pack able to change or modify each different material in prefabs. When building is ready it can be filled with props and items from the decoration library included (almost 180 prefabs).
Finally includes a bunch of free assets like robot character Ico, several prefabs from Essential Terrain and the Top Down Wizzard (wich makes scene playable with Top/Down or 3rdP. camera)
New features:
Updated to 

Unity 2019.4.18

Fixed scene (Myst village)

Playable demoscene

 (Dark Coast)

TopDown Wizzard

 (top down / 3rd person scene manager)
New Essential Terrain Pack free assets
Free demo 

character

 (Robot Ico)

190 New prefabs

:

Building

Arcs +1

Base Wood +2

Fence +2

Misc (Balcony) +2

Stairs +1

Window +2

Decoration

Decals +6

Exterior +13

Furniture +35

Harbor +16

Illumination +22

Items +70

Books & papers (13)

Food items (34)

Money (5)

Tools (18)

Misc +2

Wall Deco +15

Active Prefabs
---
Featured fantasy assets